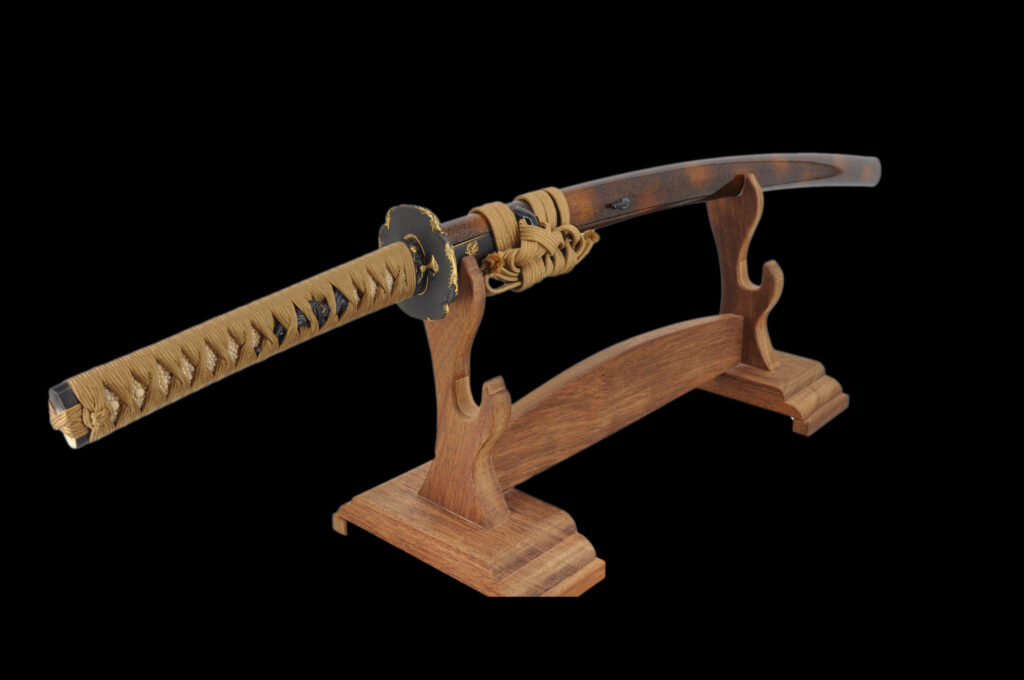 Koshirae: Dragons in clouds
Signature/mei: unsigned/mumei
Metrial: shakudo nanako, gold iroe
Era/jidai: late Edo
Dimensions:
Saya: 70.6cm
Tsuka: 24.0cm
Total: 95.5cm
Price: 4500 Euro
Koshirae with the design of dragons in the clouds.
On the omote and ura side of the shakudo tsuba we see mostly nanako and the two hitsu-ana, as the clouds and two dragons are carved in the outer edge and around the rim. The dragons are coloured in gold which gives them a nice contrast against the dark clouds. The male and female dragon are carved symmetrical so that their heads or faces meet at the top and the tails at the bottom of the tsuba.
Menuki and kashira are made of shakuko and also depict dragons. The eyes of the dragons are coloured in gold.
Fuchi and kojiri are made out of horn, the kurigata is colored black.
The kogai and kozuka are a matching set also made out of shakudo but coloured in gold completely. Both have a shakudo nanako base plate on which a curled roundish dragon is placed: The dragons are also colored in gold what makes them stand out on the shakudo nanako. A nice little detail; on the kogai a male dragon is shown and on the kozuka a female dragon.
The blade of the kozuka is signed but due to some rust it is difficult to read. The other side is rust free and itame hada is visible with a suguha based hamon.
The saya has a black base colour which is mostly lacquered with little particles of brown, red and gold which form large round spots. The condition is perfect without any dents or cracks.
The tsukamaki is newly made and together with the sageo of matching colours, a light ochre to match the fine red-brown golden colours of the saya.
A real treat for someone who is locking for a koshirae with the most famous design of dragons in a perfect mint condition.